I've been reading the book Steps to the Top, by Zig Ziglar.  On the first page, he encourages and challenges the reader to share the information outlined in his book.  He states that he wrote the book not only to give the reader a lift, but to help the reader become a giver by sharing.  So, I'd like to share his encouraging words with you.
There are times in our lives when we feel below par and have brief moments of doubt.  The main reason we feel inferior about ourselves and our lives is because we spend too much time comparing ourselves to others.  We need to remember that we are who we are and we don't have to measure up to anyone else.  We are not inferior or superior to any human being.  God has created each one of us with uniqueness and originality.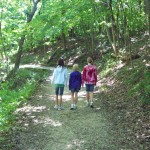 We should not determine our success by comparing our self to others; rather, we should determine our success by comparing our accomplishments to our own capabilities.  We are "number one" when we do the best we can with what we have.
Mr. Ziglar then recommends this action step for today.  "Today I will realize that I am special and unique, and I will use my talents instead of wishing for the talents of another."
There are many Scripture verses about being uniquely made.  For today, I have chosen two:
"I praise you because I am fearfully and wonderfully made; your works are wonderful, I know that full well." Psalm 139:14
"Just as each of us has one body with many members, and these members do not all have the same function, so in Christ we who are many form one body, and each member belongs to all the others.  We have different gifts, according to the grace given us.  If a man's gift is prophesying, let him use it in proportion to his faith.  If it is serving, let him serve; if it is teaching, let him teach; if it is encouraging, let him encourage; if it is contributing to the needs of others, let him give generously; if it is leadership, let him govern diligently; if it is showing mercy, let him do it cheerfully." Romans 12:4-8