Sometimes you need a new idea for an old favorite.  That's what this quick recipe idea is.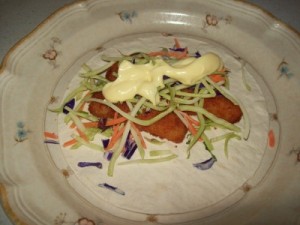 Do your kids like fish sticks?  My daughter does.  This time we made them with a new twist.  We made them into fish tacos.  Quick, easy, yummy, and crunchy.
If you prefer, this recipe would also work well with shrimp, or other white fish fillets.
My husband likes his fish tacos with chipotle mayonnaise.  I like mine with a little mayo and mustard whipped together.  We also add avocado as a topping.
Give this a try.  They are very good and by adding the broccoli slaw, you get a serving of vegetables in.  (See yesterday's post about the health benefits of broccoli slaw.)  Enjoy!
You will need:
Soft shell flour tortillas
Fish sticks – or other fish fillets, or cooked/breaded shrimp
Broccoli slaw
Dressing of your choice – chipotle mayo or mayo-mustard
Avocado slices (optional)
Bake fish sticks according to package directions.
Heat tortillas, per package instructions.
Place 2 or 3 baked fish sticks on the heated tortilla.
Top with a handful of broccoli slaw.
Drizzle with dressing.
Top with avocado slices.
Roll tortilla, bite, crunch, enjoy!