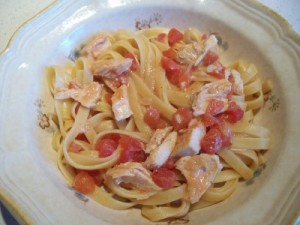 Here's a spicy pasta dish I know you will like.  It's very tasty and very easy to make.  The kick in this pasta dish comes from Tony Chachere's Original Creole Seasoning.  This seasoning is a great item to keep on hand in your pantry.  It spices up a whole lot of dishes.  For this recipe, I used chicken.  This would also work well with shrimp.  Give this a try tonight.  Your family will love it.
You will need:
1 lb. boneless, skinless chicken breasts (I used 4 chicken steaks from Market Day.)
3 TBSP olive oil
1 shallot, minced
3 cloves of garlic, minced
4 tsp. Tony Chachere's Original Creole Seasoning, divided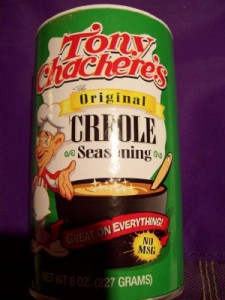 28 oz. can petite diced tomatoes with juice
¾ cup half & half
1 lb. box of fettuccine (I use Barilla Pasta.)
Grated Parmesan Cheese, optional
Cook pasta "al dente", according to package directions.  Drain and set aside.
In a large skillet, heat the olive oil over medium heat. 
Add the chicken breasts, seasoned with 1 tsp. of the creole seasoning.
Cook chicken until no longer pink. (4 to 6 minutes each side)
Transfer cooked chicken to a plate and cut into bite sized pieces.
Add the minced shallot and garlic to the hot skillet, adding a little more olive oil if necessary.
Saute until the shallot is tender, taking care not to burn the garlic and shallot.
Add the tomatoes with juice and 3 tsp. of the Cajun seasoning.
Simmer for approximately 4 minutes.
Add the half & half and cooked chicken pieces and simmer for an additional 5 minutes.
Toss in the cooked fettuccine and mix to combine.
Serve in bowls and top with grated cheese.
Enjoy!