Today I will share a very quick and easy frosting – Creamy Peanut Butter Frosting.  I was a little short on time today, but had committed to bringing dessert to a friend's house.  I wanted to do something homemade, but only had time to do something semi-homemade.  This frosting would taste great on your favorite chocolate cake or cupcake recipe.  Today I used it to frost a chocolate box cake mix.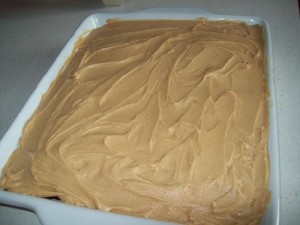 Very yummy!  Chocolate and Peanut Butter, can't beat that.
You will need:
3TBSP butter, softened
¾ cup peanut butter (I used Jif Creamy Peanut Butter.)
2 cups powdered sugar
6 TBSP milk
That's it.  Now just use an electric mixer and whip it till it is nice and smooth.
Then frost your cake or cupcakes and Enjoy!