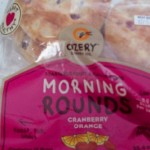 Morning Rounds Cranberry Orange Buns from Ozery Bakery, Inc. – These are very tasty, low fat, toastable fruit and grain buns.  Each round has 160 calories, 5 grams of protein, and only 1 gram of fat.  The taste is just great and it is a very quick breakfast item.  Morning Rounds Cranberry Orange Buns are all-natural, healthy grain buns full of sweet dried cranberries and fresh, juicy oranges.  They're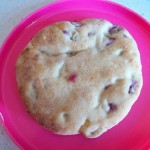 delicious toasted.  You can eat them just by themselves, or top them with your favorite preserves. We top ours with cream cheese.  I think your family would enjoy these tasty and healthy breakfast rounds.  My family does.
Mushroom Trio & Spinach Stone-Fired Thin Crust Pizza by Kashi – We were going to have pizza for dinner last Friday, and I was hoping to find a healthier version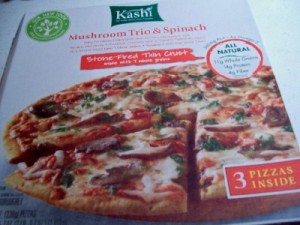 that tasted good.  I spotted this 3-pack pizza box in the frozen section at COSTCO.  I knew Kashi was a great company; we already are consumers of many of their breakfast cereals.  So, I thought I would give their pizza a try.  I'm very happy we did.  These were really good and much healthier than any take-out version.  The pizza is made with baby portobello, champignon and shiitake mushrooms, spinach, mozzarella and provolone cheese, and tomato parmesan sauce on Kashi's 7 Whole Grains and Sesame with Flax Seed Crust.  Very Yummy!.  The box I bought contained three 11.9 oz. pizzas.  Our family ate two for that evening's dinner.  These Vegetarian, All Natural Pizzas contain 11g Whole Grains, 14g Protein, and 4g Fiber per serving.  They also contain 360mg ALA, an Omega-3.  If you are looking for a healthy, tasty pizza, you should give these a try.  We really enjoyed this product.
As I mentioned in previous posts, I am always like looking at other people's shopping carts when I am shopping.  I love to see what they are buying, and would love to know what they have to say about certain products too.  That's why I include these types of posts.  I'm telling you what my family has tried and liked, and why we like it.  I hope you find this information helpful.