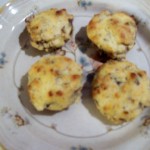 This is a really simple recipe for stuffed mushrooms that is absolutely delicious.  My family requests these quite often and we gobble them up quite quickly.  Give these a try.  I know you will love them.
You will need:
12 medium/large mushrooms
1 or 2 TBSP olive oil
2 cloves of garlic, minced
8 oz. cream cheese, softened
¼ cup grated Parmesan cheese
¼ tsp. black pepper
¼ tsp. cayenne pepper (I used a heaping ¼ tsp. We like the kick!)
Preheat oven to 350 F.
Spray a baking sheet with cooking spray.  (I lined my baking sheet with foil sprayed with non-stick cooking spray.  I like easy clean-up!)
Clean the mushrooms with a damp paper towel.
Break off the stems and finely chop them.  (Discard any really tough pieces.)
Heat the olive oil in a sauté pan.
Add the garlic and the chopped mushroom stems.
Cook for 5 -6 minutes till tender, stirring frequently and taking care not to burn the garlic.
While the stems are cooking, use a teaspoon to scrape out the mushroom caps, removing the gills.
Place softened cream cheese in a large mixing bowl.  (I usually soften my cream cheese in the microwave.)
Add the parmesan cheese, black pepper and cayenne pepper.
Add the sautéed mushroom stems.  (Note:  If the olive and moisture from the mushroom stems didn't completely cook away and still remains in the pan, be sure to use a slotted spoon to remove the garlic-stem mixture.)
Mix thoroughly.
Using a spoon, generously stuff each mushroom cap with the cream cheese mixture.
Place the stuffed caps on the prepared baking sheet.
Bake for 20 minutes.
Serve and Enjoy!