I thought I would share another quick and easy dessert bar recipe, one that would be great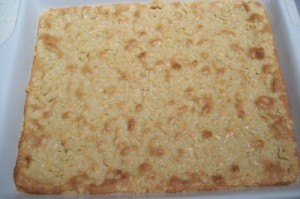 for some of the upcoming football parties you may be hosting or attending.  These sweet treats are for peanut butter lovers, and will surely be gobbled up quickly.
You will need:
For the Crust
1 stick of butter, softened (I used salted butter)
½ cup creamy peanut butter (I only use JIF Peanut Butter)
1 ½ cups granulated sugar
1 tsp. vanilla extract
1 ½ cups of flour
For the Filling
2 eggs
2 TBSP peanut butter
½ cup granulated sugar
½ cup light brown sugar
Preheat oven to 375 F.
To make the crust,
Mix together the butter, peanut butter, and sugar until well blended.
Stir in vanilla.
Add flour and mix well. The mixture will be crumbly.
Reserve 1 cup of mixture for topping.
Firmly press remaining mixture into the bottom of a lightly greased 13 x 9 pan.
To make the filling,
Beat the eggs, peanut butter, and sugars together.
Spread over unbaked crust.
Sprinkle with reserved crust mixture.
Bake 20 -25 minutes, until set and topping is golden brown.
Cool and cut into bars.
Serve and Enjoy!