This recipe is for Italian Lemon Cookies.  My husband really likes these cookies.  I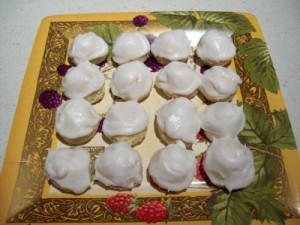 think their texture is a bit cake like.  The frosting is amazing; it reminds me of eating a creamy frozen Italian Lemonade – very refreshing.  If you are looking for a different type of cookie, you should give this one a try.  You will get about 3 dozen cookies with this recipe.
You will need:
For the dough:
2 cups of all-purpose flour
1/3 cup sugar
1 TBSP baking powder
¼ cup vegetable shortening
½ cup milk
1 egg, beaten
2 tsps. Lemon extract
For the frosting:
2 cups powdered sugar
1/3 cup vegetable shortening
¼ cup of warm milk, divided
1 tsp. lemon extract
Heat oven to 375 F.
Combine flour, sugar, and baking powder in a large bowl.
Beat in shortening with electric mixer on low, until completely blended into the flour mixture.
Add milk, egg and lemon extract.
Mix until blended.
Roll dough into 1-inch balls.
Place 1 inch apart on baking sheet coated with non-stick cooking spray.
Bake 10 – 12 minutes until lightly browned.
Cool completely.
To make the frosting,
Beat powdered sugar, shortening, 2 TBSPs of warm milk and lemon extract in medium bowl with electric mixer on low until blended.
Gradually beat in additional warm milk until desired consistency.
Spread frosting on top of cookies.
Serve and Enjoy!