Here's a recipe that combines the flavors of Chicken Enchiladas with Pasta.  It is really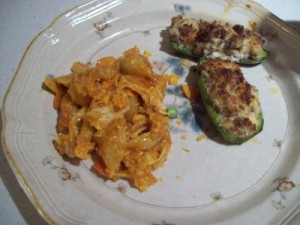 tasty and quite simple to make.  We had some friends over last week and I made this for dinner.  It was a hit.  I also made some stuffed jalapeno peppers (I gave you that recipe last week) and served both together.  We had a yummy Mexican Fiesta Dinner!  Give this a try; I know you will like it. 
You will need:
1 lb. box of large shell pasta  (NOT the jumbo shells you stuff, just shells size large)
2 cups of chopped sweet peppers  (I used red, yellow and orange peppers – about 3 of them.)
1 cup of chopped red onion
2 TBSP of vegetable oil
4 oz. can of diced green chilies
16 oz. can of refried beans
3 TBSP of taco seasoning (I used a pre-packaged low sodium mix; about ½ a package.)
2 –  10 oz. cans of enchilada sauce
2 or 3 cups of cooked, chopped chicken  (I used four chicken breasts from Market Day.  I placed them in a baking dish covered with foil and baked at 375 for about 45 mins.  Then I chopped them into bite sized pieces.)
2 –  8 oz. packages of shredded Mexican 4-cheese blend
3 sliced green onions
2 cups of crushed nacho cheese Doritos
Guacamole and/or sour cream to top (optional)
Preheat oven to 350 F.
Cook pasta shells according to package directions.  Cook them 1 minute less than the "al dente" cooking time.  Drain and set aside.
Sauté the sweet peppers and red onion in the oil until tender, about 7 – 8 minutes.
Stir in the green chilies, beans, taco seasoning, and enchilada sauce and heat until the beans are melted and the sauce is well combined; about 5 -6 minutes. 
Stir in the cooked chicken and heat for an additional 2 minutes.
Pour the hot sauce over the pasta.
Add one package of the shredded cheese and mix thoroughly.
Bake pasta mixture in a 13 x 9 baking pan covered with foil for 30 minutes.
Uncover, and sprinkle with additional shredded cheese – to your liking – I used about ¾ of the 2nd package.
Bake for 5 -7 minutes more, until cheese is melted.
Remove from oven.
Sprinkle with chopped green onions and crushed Doritos.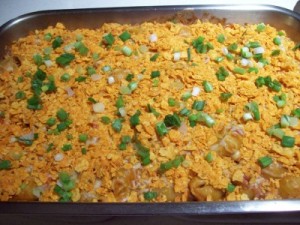 Serve with guacamole and/or sour cream (optional).
Enjoy!