If you like caramel and you like chocolate, then you are sure to like this dessert.  It's very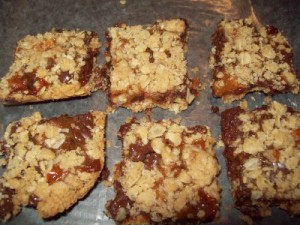 tasty, and very easy to make.  This sweet treat would be a great item to serve to hungry football fans at your upcoming Playoff and Super Bowl Parties.
You will need:
1 ¾ cups old fashioned rolled oats, (you can also use quick cooking oats)
1 ¾ cups of flour, divided
¾ cup light brown sugar
¾ cup shortening
1 TBSP water
½ tsp. baking soda
¼ tsp. salt
1 cup chopped walnuts (you can also use pecans)
1 cup semi-sweet chocolate chips
1 cup caramel flavored sundae syrup
Heat oven to 350° F.
Spray a 13 x 9 baking pan with non-stick cooking spray.
Combine oats, 1 ½ cups flour, brown sugar, shortening, water, baking soda, and salt in a large bowl.
Beat with electric mixer on low speed until well blended.
Reserve 1 cup oat mixture, and set aside.
Press remaining oat mixture into bottom of prepared pan.
Bake 10 – 12 minutes until lightly browned.
Cool 10 minutes.
Sprinkle with nuts and chocolate chips.
Combine caramel syrup and remaining 1/4 cup flour in a small bowl and stir until smooth.
Drizzle over chocolate chips.
Sprinkle with reserved oat mixture.
Bake an additional 18 to 22 minutes, until golden brown.
Cool and cut into bars.
Serve and Enjoy!