Happy New Year Everyone!  I'm sure by now you have your list of goals for the new year and you've probably already filled in your calendar with all the important dates and events you know of.  I've marked my calendar with meeting dates, dentist appointments, vacation days, school events and the many other things I have scheduled for the year.  The calendar is looking really marked up.  It's amazing how many things we fit into our schedule.  Then, I was thinking what I didn't write on the calendar was "family time".  And, I really should.  I mark down all the other important things I need to do or attend, but I didn't actually write down specific dates for our family time.
I am going to take some time out right after I post this, and fill in my calendar with family time.  I think you should too.  It's a great idea.  It is an important thing you need to "attend", and if you don't write it down, you might forget it.  It is very easy to forget to find time for things like that.  Sometimes in the busyness of everyday commitments, we just don't fit in the very important things like family time. 
Pick one day a week, and schedule it in.  Maybe for you it's every Friday night; maybe it's a Saturday one week and a Wednesday the next.  Whatever day it is, just be sure that it is at least once a week.  And, it doesn't matter what you do.  Maybe you could have a movie night; maybe a game night; maybe a special dinner that ends with a very special dessert – like make your own sundaes.  Maybe it's even a time when you work together on a project for your home and then break for lunch together.  Every once in a while, maybe you splurge and go out – for dinner, for bowling, for mini-golf etc.  I have a friend who has each member of her family take turns for planning the family night.  She gives them a set budget and then it is their responsibility for planning all the details of their family night.  Her kids get really excited about doing that.  I think that's a great idea.
So, go back and take a look at your calendar.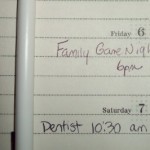 Grab a pen, and starting scheduling those family nights.  You will be glad you did.