Last month I bought these really delicious treats from Trader Joe's – White Chocolate Peppermint Covered Pretzels.  They were so good we ate the entire bag very quickly.  So, I went back to buy some more.  Actually, I was going to buy a case because I thought they would make nice Christmas gifts.  Much to my dismay, Trader Joe's told me they were completely sold out and production of this item was finished for the season.  Bummer.  I really had a taste for those.  Anyhow, I decided to experiment a little and created my own version.  They turned out really good, so I want to share the recipe with you.
There are a couple of things I want to mention first.  Regarding the peppermint candy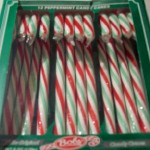 canes, I like to use ones that are red and green because I think they look a bit more festive when crushed, than do the plain red and white ones.  You can use either color for this recipe.
Regarding the crushing – I was getting a bit frustrated and a bit tired trying to use a can and a rolling pin to try to crush the candy canes.  So, I decided to use my Magic Bullet for the job. I absolutely love my Magic Bullet.  I broke the candy canes into medium pieces so they would fit in the Bullet cup.  Then, I used the flat blade, the one you use for grinding coffee.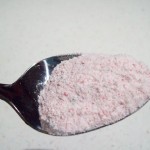 What I got, was a fine peppermint powder, not chunks.  But, I was very happy with the powder.  In fact, in the next few days I will give you a couple of other ideas for using the candy cane powder.  So, save the leftovers in a re-sealable plastic bag.
Regarding the white chocolate, I used Baker's Premium White Chocolate Baking Squares.  Great choice.  The other day I was experimenting with a different recipe and used some other brands white chocolate chips and the flavor was not so great.  I recommend using Baker's.
OK, here's the recipe.  You might consider giving out these homemade treats as a Christmas gift, if you don't gobble them up first.
You will need:
6 (1 ounce) Baker's Premium White Chocolate Baking Squares
1 TBSP Crisco Shortening
1 (16 ounce) package of mini twist pretzels or snaps (I used snaps this time.)
12 peppermint candy canes, finely ground (I used red & green candy canes and my Magic Bullet to grind them into a fine powder.)
Place the 6 squares of chocolate and one TBSP of shortening into a microwave safe bowl.
Microwave on high for 1 minute. 
Stir until smooth.  You may need to microwave a few additional seconds if not completely melted.
Stir in 3 TBSP of the peppermint candy cane powder and mix well.
Save extra candy cane powder in a re-sealable plastic bag for future use.
Dip pretzel halfway into the white chocolate mixture, completely covering half of the pretzel.
Lay pretzels on wax paper.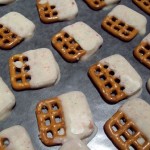 Place in refrigerator for approximately 30 minutes to harden.
Store pretzels in an airtight container.
Enjoy!
Note:  This recipe of the white chocolate and peppermint mixture only covered about half the bag of my pretzels.  This may vary depending on how heavy you coat the pretzels.