Hello friends.  Sorry I haven't posted in a few days.  Got hit with the flu bug.  Not fun, not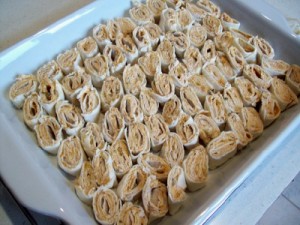 pretty.  Anyway, I wanted to share this quick and easy appetizer recipe.  I got it from my friend Martha, a very long time ago.  I make it often for parties.  I thought it might be nice to try for some upcoming holiday parties or football parties that you host or attend.  It's really easy to make and quite tasty.
You will need:
8 oz. cream cheese, softened
8 oz. chive and onion cream cheese, softened
1 pkg. taco seasoning mix
2 TBSP mayo
4 oz. can of diced green chiles
1 pkg. soft flour tortillas (I used Azteca tortillas.)
Combine all ingredients (except for the tortilla shells).  Mix thoroughly.
Spread a thin layer of the cream cheese mixture on the tortilla, just to the edge.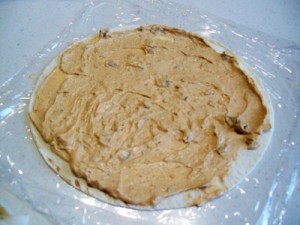 Roll the tortilla and wrap in plastic wrap. (Can wrap them individually or place them all on a plate and cover with plastic wrap.)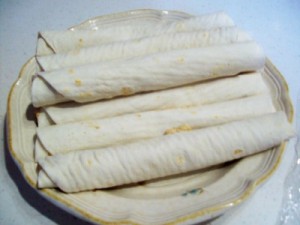 Refrigerate for at least 2 hours.
Slice and Serve.
Enjoy!