The other day I gave you my recipe for white chocolate peppermint pretzels, and told you about how I used my Magic Bullet to crush the peppermint candy canes into a fine peppermint powder.  I find peppermint very yummy, and very soothing.  This time of year can get very busy and very hectic if you let it.  I hope you can find some time this coming week to spend some quiet time with your family and reflect on the real meaning of the season.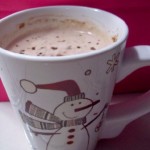 Take some of that crushed peppermint powder and stir it in to your favorite hot chocolate.  Sit back, sip it slowly, and enjoy the warmth.  Maybe even watch the movie, The Nativity Story, with your family.  Maybe read Luke, chapters 1 and 2 together with your family.
Enjoy the warmth of the season.  Enjoy the sights, sounds, smells, and tastes. Enjoy time with your family.  Set time aside with your family to recall the events surrounding our Savior's birth.  Relax, Remember, Rejoice! Merry Christmas!