One of the things that I usually get in trouble for at home is how much stuff I save.  I will admit that I do have a problem parting with some things; make that, many things.  I guess I feel that you never know when you just may need that one thing.  My husband doesn't understand my little problem.  For some stuff, he's right.  I should just toss it or donate it.  But, I did want to share with you a few things that I do save that have been very helpful to me, especially during Christmas.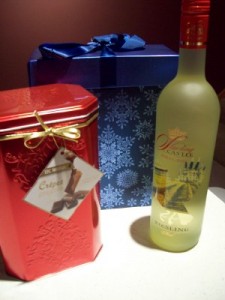 I will start with my Christmas list.  Every year I make a list of all the people I have to buy for.  And, next to their name, I write down what I bought them and how much I spent.  (My sister one-ups me on this – her list is typed.  I'm not there yet.)  Anyway, I save my list from year to year.  Most of the people on my list are on there every year, so it helps me to remember what I have gotten them in the past.  I find this very helpful.  For example, if I have a friend or relative that I buy food or drink type items, it is nice to know what I got them last year.  Sometimes it makes sense to repeat the gift – let's say they have a favorite wine.  But sometimes, it's nice to remember what you got them last year so you don't repeat it – if for instance you got them a cute insulated coffee mug.  It works for me (especially with my memory) and it is kind of fun to look at past year's lists.  Additionally, this can help you track how much you spend on gifts from year to year.
The second thing I save that I find helpful are my holiday menus.  I host Christmas Eve every year.  Lots of food.  Lots of appetizers.  Lots of desserts.  I write down what I serve each time.  I write down what others bring.  This helps me plan next year's menu.  Sometimes a dish or an appetizer or a dessert is really a hit, so I will make those again or request whoever brought it to bring it again.  Sometimes, there's that one item that didn't go over so well.  That reminds me not to make that again.  Sometimes I think, "Well I made sausage last time, maybe I'll try meatballs this year."  I make notes of what worked well and what didn't.  I also make notes of how much.  For example, my note might say, "Too many sauerkraut pierogi, not enough potato."  Or, "Could have used another dozen deviled eggs."
Anyway, those are two things I save that I find helpful.  Maybe you already save those lists.  Then again, maybe you think I am absolutely nuts and are thinking, "Wow, really?  She can't remember what she bought or made last year." No, I really can't remember without my lists.  (That is another small problem I have, but that is a story for another time.)  Just thought I would share, hoping this would be helpful to you.
Happy holiday planning!