The other day I told you about the super vegetable KALE.  I found a couple of recipes I wanted to try using Kale and I decided to start with Kale Chips.  Since I had never eaten Kale before, I just made a small batch to see if we would like it.  I would recommend the same for you, if like me, you have never eaten kale.  Well, my husband and I liked the chips and I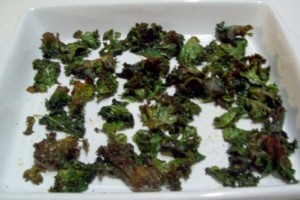 will make them again.  They were tasty and crunchy, and a nice, healthy alternative to other types of snack chips.  But, to be honest, my daughter did not care for them.  She seemed to have a problem with the texture.  I was disappointed about that since the cooking shows and other recipes said the kids really enjoyed these chips.  I was surprised too, since she eats a lot of vegetables that I think most kids wouldn't even try.
Anyway, I bought one bunch of kale.  I washed it, and patted it dry with paper towels.  Then, I ripped the leaves away from the thick rib/stalk of the Kale.  I ripped the leaves into medium sized pieces.
I tossed the leaves with one tablespoon of olive oil, being sure to coat them well.  Then, I added a pinch of salt and a generous sprinkle of black pepper.  I spread them on a baking sheet and baked them at 375 F for about 20 minutes, stirring them half way through.  When they were finished, I had a nice tasty, crunchy chip that I served with a chicken sandwich on a Torta Roll (my favorite).
There are quite a few variations of what to sprinkle on the chips, and I may try some other ones in the future (hoping that my daughter might give them another try).  Some include garlic, crushed red pepper, or a bit of chili powder.  Others finish off the chips by sprinkling lemon juice or sesame seeds after baking.  Again, try a small batch first, and then experiment with different seasonings.  Increase the amount of olive oil if you make more than one batch.  Try them.  Let me know what you think, and what your favorite toppings are.