This is a delicious and healthy soup that is super easy to make.  If you have a taste for homemade soup that is ready really quick, then you will surely love this one.  By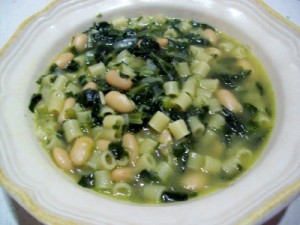 combining a carton of chicken stock, a can of cannellini beans, and a package of frozen chopped spinach you get homemade taste with half the work.  And, the pasta cooks right in the soup, so you only need one pot to make this.
This soup uses Ditalini Pasta, a small tube shaped pasta.  The larger version is called Ditali.  In Italian, Ditalini means "little thimbles" (just in case you were interested in that little fact).
You will need:
¼ cup olive oil
3 cloves garlic, chopped
Medium white onion, chopped
32 oz. carton of chicken stock (I used organic; use low sodium if possible.)
9 oz. package of frozen chopped spinach
15 oz. can of cannellini beans, drained and rinsed
1 cup of ditalini pasta
Black pepper, to taste
Grated Parmesan Cheese (to top, if desired)
Heat the olive oil in a large pot over medium heat.
Add the garlic and onion and cook for 8 – 10 minutes, stirring frequently.
Add the chicken stock and the spinach (I didn't even thaw the spinach; I just tossed it in frozen with the stock.)
Increase heat and bring soup mixture to a boil.
Stir in the beans and the pasta.
Reduce heat to medium and simmer for about 10 minutes until pasta is cooked "al dente".
Season with black pepper, to taste.
Serve in soup bowls and top with grated parmesan cheese.
Enjoy!  Simply Delicious!