The other day I gave you my recipe for Ditalini Soup with Spinach and White Beans.  It was so good that we gobbled up the whole batch and didn't have any leftovers.  And, we wanted more!  My daughter asked if I could put less beans in this time.  So, I thought I'd replace the beans with another cup of pasta.  Well, the pasta really soaked up the broth, so what I got wasn't really a soup.  It turned out to be a really delicious pasta dish.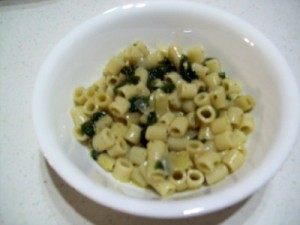 Basically, it's the same recipe I gave you for the soup, minus the beans and plus more pasta.  It was so flavorful, so delicious and satisfying, and as before, quite simple to make.  And again, you just need one pot since the pasta cooks right in the chicken broth.  See how fun it is to experiment in the kitchen!  Because of my daughter's little request, I got two completely different meals using basically the same ingredients.
The one thing I love about pasta is that you can get it in so many different shapes and sizes and can cook it with so many different ingredients and sauces, that you could probably eat pasta every day of the year and not have the same dish twice.  A carb lover's dream!  This pasta dish uses ditalini, the tube shaped pasta.  And, the sauce is a light chicken broth combined with fresh garlic, onion, and spinach.  Very, very, good!
You will need:
¼ cup olive oil
3 cloves garlic, chopped
Medium white onion, chopped
32 oz. carton of chicken stock (I used organic; use low sodium if possible.)
9 oz. package of frozen chopped spinach (This time I used fresh spinach, because that's what I had on hand.)
2 cups of ditalini pasta
Black pepper, to taste
Grated Parmesan Cheese (to top, if desired)
Heat the olive oil in a large pot over medium heat.
Add the garlic and onion and cook for 8 – 10 minutes, stirring frequently.
Add the chicken stock and the spinach (If using frozen spinach, you don't have to thaw it, just toss it in frozen with the stock.)
Increase heat and bring mixture to a boil.
Stir in the pasta.
Reduce heat to medium and simmer for about 10 minutes until pasta is cooked "al dente".
Season with black pepper, to taste.
Serve and top with grated parmesan cheese.
Enjoy!  Simply Delicious!