Here's one of my favorite cookie recipes (hard to believe, considering it's not chocolate).  I made a batch today for Grandparents' Day at our school.  These are super simple to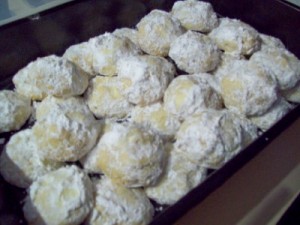 make.  A tasty butter cookie with a nice crunch.  Where does the crunch come from?  You guessed it, Potato Chips.  I know that sounds weird, but these are really good cookies.  You get about 6 dozen with this recipe, which is why I chose to make these for today's celebration.  You must try these.  I know it's a bit early to start thinking about Christmas, but this is a good cookie to bring for a cookie exchange.  Give them a try!  You won't be disappointed.
You will need:
1 pound of butter, softened  (Yes, a whole pound.)
1 cup sugar
2 tsp. vanilla
3 ¾ cups flour
1 cup crushed Jay's Potato Chips
Powdered Sugar
Preheat oven to 350 F.
In a large bowl, mix the butter, sugar, and vanilla until smooth.
Add the flour and mix.
Mix in the crushed potato chips.  (Note:  To crush the potato chips, I just put them in a plastic sandwich bag and crush them with my hand.)
Form the dough into medium/small balls and place on cookie sheet.
Bake at 350 F for 12 – 15 minutes.
Roll in powdered sugar when cooled.
Enjoy!