The other day I was working on cleaning my office and was looking thru a pile of stuff to decide whether I should keep it or toss it.  I came across a magazine I had saved from our GEMS group.  The lesson in the magazine was about hiking.  The gist of the lesson was that we are all hikers, hiking on the path of life.  During our journey we may face some challenges like steep hills or mountains, tough decisions, or feeling alone.  However, God supplies us with what we need on our journey.  We can use our Bible like a map, so we choose the right path.  And, our Bible acts like a light too, helping to show the way.  Prayer is another important part on our journey.  The lesson quoted God's words to us in Hebrews 13:5b: "Never will I leave you; never will I forsake you."  That is a promise we can take with us on our trail.  The lesson concluded with a simple and easy recipe for trail bars.
I wanted to share this with you because it is a good reminder that God is with us and has given us the tools we need on our journey in life.  This would make a nice devotional for your family or a great lesson for kids you may be teaching.  Making the trail bars is a fun activity too and a great way to get your kids cooking in the kitchen.
Here's the recipe for trail bars, with a few of my own changes.  You might also consider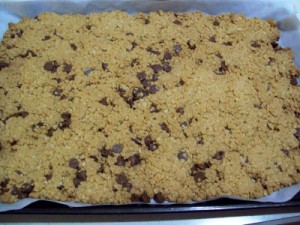 changing the chocolate chips to peanut butter chips or even raisins.  Improvise and just have fun!
You will need:
¾ cup brown sugar
3 TBSP butter, softened
¼ cup vegetable oil
1 tsp. vanilla
1 egg
2 cups quick-cooking oats
1 ½ cups flour
1 tsp. baking soda
¼ tsp. salt
½ tsp. cinnamon
1 cup semi-sweet chocolate chips
Preheat oven to 350 F.
In a large bowl, beat the brown sugar, butter, oil, vanilla, and egg with an electric mixer, until smooth.
Add the remaining ingredients, except the chocolate chips, and mix well.
Stir in the chocolate chips.
Spray a cookie sheet with non-stick cooking spray.
Press the mixture evenly onto the pan.
Bake for approximately 17 minutes, or until golden brown.
Cut into bars.
Serve and Enjoy!