I know it might seem weird that now we are back into 80 degree weather and I am making chicken soup, but I do have a good reason.  My daughter was home sick with some sort of virus – sore throat, sinus thing.  The doctor prescribed an antibiotic and some homemade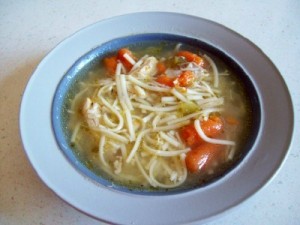 chicken soup.  So, I filled the prescription and bought a chicken.  The soup turned out really great.  My family absolutely loved it.  I made a huge batch and thought I would have to freeze some, but we sure are gobbling it up. Thank heavens I won't have to try to make room in the freezer side of my inconvenient side-by-side freezer/refrigerator.  There's nothing like homemade soup – you will love this!
You will need:
For the stock:
A 5-pound soup/stew chicken
16 cups of water (enough to cover the chicken)
48 oz. carton of chicken broth (I used Swanson low-sodium chicken broth)
1 handful of baby carrots
3 stalks of celery with leaves, cut into large pieces (the center stalks have the most leaves)
1 large onion, cut into 5 wedges
3 cloves of garlic, smashed
For the soup:
5 handfuls of baby carrots
4 large stalks of celery, sliced
½ of a medium onion, chopped
Pinch or two of salt
Several generous pinches of black pepper
Pinch or two of oregano
12 oz. package of noodles (I used No Yolks Cholesterol Free Egg White Pasta)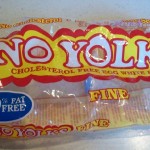 To make the stock, remove and discard the neck and giblet packet from inside the chicken and wash the chicken in cold water, inside and out.
Place the whole chicken in a very large soup pot, and then add the 16 cups of water, so the chicken is covered.
Bring the chicken and water to a boil.
Skim off and discard any foam from the surface of the water.
Add the broth and remaining stock ingredients.
Bring to a second boil.
Reduce heat to low, and simmer, partially covered, for about 1 hr. and 45 minutes, until chicken is tender.
Remove chicken to a cutting board or large bowl.
When cool enough to handle, remove skin and bones and discard.
Shred the meat and set aside.
Add all the remaining soup items to the soup pot, except the noodles.
Bring to a boil.
Add the shredded chicken and simmer partially covered for 30 minutes.
Add the noodles and simmer for another 8 minutes.
Serve and Enjoy!
Note:  The next day, the noodles had soaked up quite a bit of the broth, so I added another can of low-sodium chicken broth when I heated and served up the next batch.