I made the most delicious treat last night – Chocolate Walnut Covered Apricots.  It uses only 3 ingredients – 3 healthy ingredients and was so simple to make.  I just made a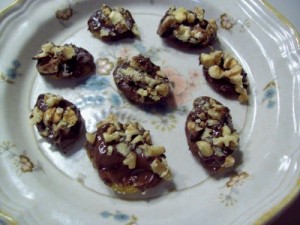 few for our family to try, but I plan on making these again because they were so good.  They will definitely be making an appearance at one of my next parties, and I think they would be a good treat to bring when someone else is hosting a party.
This is such a short recipe, that I'm not even going to put it in my regular recipe format.  Here are the ingredients you will need:  Dried Apricots, Dark Chocolate Chips, and Walnut Pieces.
I melted the dark chocolate chips in a small bowl in the microwave, as per package directions.
Then, I dipped the dried apricot into the melted chocolate and then into the walnuts and laid them on a piece of wax paper to set (about 10 minutes).  That's it – super easy!
I used a package of Sun Maid Dried Apricots (they were small in size), and Nestle's Dark Chocolate Morsels. I had some walnuts on hand, so I just chopped them myself and got some larger size pieces than the packaged pieces you can buy at the store. 
The best part was I didn't even get my hands dirty.  I just stabbed each apricot with a steak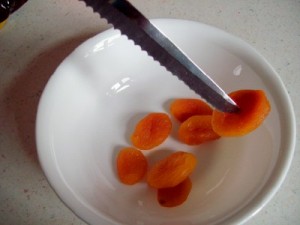 knife to get a hold of it, and then dipped it in the chocolate and then into the walnuts.  I only covered one side of the apricot, and that was plenty of chocolate.
I know you will like this treat.  It will satisfy any chocolate craving you may have and it has the added health benefit of apricots and walnuts. Enjoy!