My neighbor April gave me this recipe for these sweet cookie bars.  They are quite simple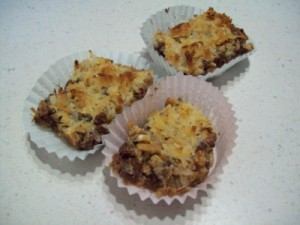 to make, you don't even need your electric mixer.  My husband likes these, as he is a big fan of Mounds and Almond Joy Candy Bars.  This recipe has flaked coconut, chocolate, and walnuts – a really tasty combination.  The original recipe calls for a corn flake crust, but April said one time she used Special K Cereal and liked it that way too.
You will need:
6 cups of corn flakes crushed to 1 ½ cups (you can crush them in a Ziploc Storage Bag)
3 TBSP sugar
½ cup butter, softened
1 cup coarsely chopped walnuts
1 cup semi-sweet chocolate morsels
1 and 1/3 cups flaked coconut
1 can (15 oz.) sweetened condensed milk
Preheat oven to 350 F.
Spray a 13 x 9 baking pan with cooking spray.
In a medium bowl, mix together the crushed cornflakes, the sugar, and the butter.
Use the back of a spoon, to press the mixture evenly and firmly on the bottom of the pan to form the crust.
Sprinkle the walnuts, chocolate morsels, and the coconut evenly over the crust.
Pour the sweetened condensed milk evenly over the top.
Bake at 350 F for 25 minutes.
Cut into bars and Enjoy!