Here's a simple recipe for a delicious and satisfying sandwich.  For this sandwich, I topped my chicken breast with melted provolone cheese, but you can choose any cheese you like.  Other good choices would be Monterey Jack Cheese or a blend of Mexican Cheese.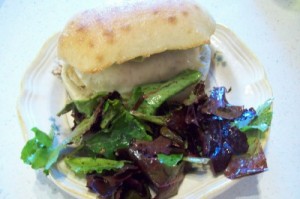 The most important part of this sandwich is the bread.  I bought a package of TORTA Rolls at COSTCO.  These rolls were from LA BREA Bakery, and they were absolutely delicious.  TORTA is the traditional sandwich roll used in Mexican Cuisine.  You can stuff them with a variety of choices, but for our dinner last night, I chose chicken, cheese, and guacamole.  I served the sandwiches with a side salad of Baby Spring Mix.  Yum!
For your sandwich, you will need:
4 boneless, skinless chicken breasts(I used Market Day Chicken Breasts, so I didn't have to pound the breasts.  Depending on the thickness, you may want to pound the breasts to thin them out a bit.)
Flour – to coat the chicken
Oil – to quick fry the chicken
4 slices of cheese (Your favorite – I used Provolone.)
Guacamole – to spread on the sandwiches
4 TORTA Rolls
Coat the chicken breasts in flour.
Fry the breasts in a pan with some oil – about 2 or 3 minutes each side.
Remove breasts from frying pan and transfer to a baking dish.
Cover the baking dish with foil and bake them for approx. 30 minutes at 350 F, until cooked.  (This makes them tender and juicy.)
When breasts are finished baking, slice the TORTA Rolls in half and arrange them on a baking sheet.
Place one breast on each roll and top with cheese slices.
Bake, open face, at 350 F until cheese is melted and bun is warmed and slightly toasted – about 5 -7 minutes.
Remove from oven.
Spread guacamole on one half of the roll.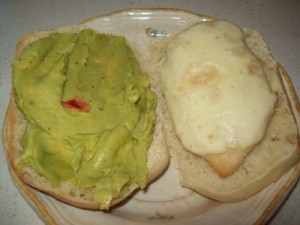 Serve and Enjoy!