This recipe for Zucchini Bars is from my friend Julie.  These are really good – a moist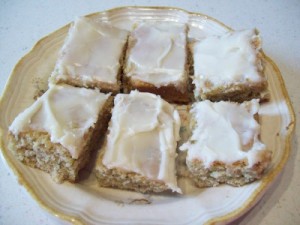 cake with a delicious cream cheese frosting, and very easy to make.  They are made in a jelly roll pan, so you will get a lot.  They might be a nice dessert to make when you have company.  Give them a try.
You will need:
2 cups of sugar
4 large eggs
½ cup of vegetable oil
2 tsp. cinnamon
1 tsp. vanilla extract
½ tsp. each: baking powder, baking soda, and salt
2 ½ cups all-purpose flour
2 cups unpeeled shredded zucchini
Frosting:
½ stick butter, softened
3 oz. cream cheese, softened
1 tsp. vanilla
2 cups confectioner's sugar
Finely chopped walnuts (optional)
Pre-heat oven to 350 F.
Lightly grease a 17 x 11 inch jelly roll pan.  (I just lined mine with Parchment Paper)  Or, you could use a 10 x 15 baking pan and bake it a bit longer.
Beat the sugar, eggs, oil, cinnamon, vanilla, baking powder, baking soda, and salt, until well blended. 
With mixer on low, beat in the flour just until blended.
Stir in the zucchini.
Spread evenly into prepared pan.
Bake 25 -30 minutes until toothpick comes out clean.
Cool on wire rack.
To prepare frosting, beat the butter, cream cheese and vanilla until smooth.
Gradually beat in the confectioner's sugar.
You may add a splash of milk to thin out the frosting if needed.
Spread on cooled cake.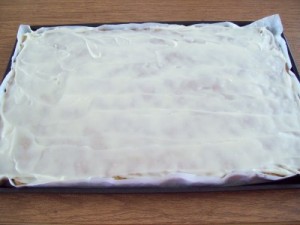 Sprinkle with finely chopped walnuts, if desired.
Cut into bars.  Serve and Enjoy!
Note:  I store the cake in my refrigerator.