As you might have guessed from some of my posts, my family and I just love zucchini.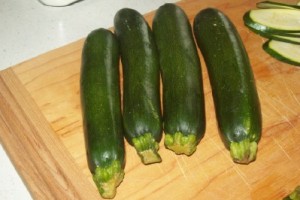 Some of the recipes I have shared with you include some of our favorite ways to eat zucchini – over pasta with garlic and olive oil, breaded as an appetizer, and shredded in dessert bars.  Zucchini is also good raw when sliced and served in salads or with a dip or when cooked and included in stir fry dishes and in casseroles.  There are so many ways to include zucchini in your diet.  And, while zucchini is very tasty, you may be surprised to learn of the health benefits offered from this type of squash.
Zucchini is good for your diet; it is high in fiber and low in calories.  The dietary fiber in zucchini helps lower cholesterol, regulates the digestive system, and keeps you feeling full longer. This vegetable is also a good source of Vitamin C, Vitamin A, folate, magnesium and potassium.  The antioxidants contained in zucchini help guard against cancer and helps maintain prostate health in men.  Zucchini also has anti-inflammatory properties that help deter the development of disorders like arthritis, asthma, and endometriosis.  Studies have also shown that the nutrients in zucchini are beneficial in heart attack and stroke prevention, and zucchini is also known to help lower blood pressure.
I am always pleased to know that foods I like are actually good for me.  Hope you found this interesting.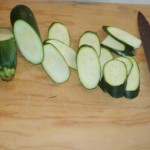 Serve up some zucchini for great health and great taste!