Soups On! And, I know you are going to love this soup recipe – it is one of our favorite soups.  It is so awesome – very satisfying, very delicious, and nice and spicy!  Best of all, it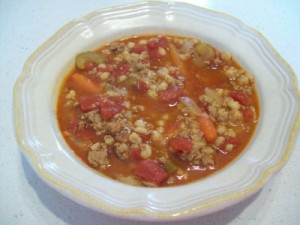 is really very simple to make.  And, it is packed with lots of healthy ingredients like celery, carrots, onion, garlic, tomatoes and barley.  The addition of the taco seasoning and green chilies give it just the right amount of heat.  (When choosing your taco seasoning and chicken broth, opt for the lower sodium varieties or ones without MSG.)   Make this for dinner tonight!  Your family will love you for it.
You will need:
1 ½ pounds ground turkey
1 medium onion, chopped
2 garlic cloves, minced
2 TBSP Olive Oil
3 celery ribs, chopped
2 cups of baby carrots
2 cans of diced tomatoes (14.5 oz. cans) with juice, do not drain
1 can of RO*TEL Diced Tomatoes and Green Chilies (10 oz. can) with juice, do not drain
1 can of chicken broth (14.5 oz. can)
1 pkg. taco seasoning
1 cup of barley
4 cups of water
½ tsp. oregano
In a large soup pot, put in the olive oil, garlic, onion, and turkey and cook until turkey is no longer pink.
Add in all the remaining ingredients and mix thoroughly.
Bring to a boil.
Lower heat , cover, and simmer for 75 minutes.
Note:  If you feel the soup is too thick, you may add additional water or chicken broth, if desired.
Ladle into soup bowls.  Serve and Enjoy!