Here's a quick way to dress up ground beef.  This meal will look like you spent a lot of time in the kitchen, but it is really a great quick and easy meal, especially for those busy school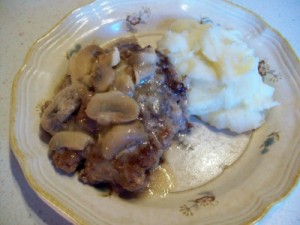 nights.  Basically, you are making some beef patties and then simmering them in a mushroom gravy.  We had these tonight for dinner and I served them with mashed potatoes.  Tasty!
You will need:
2 pounds of ground beef (I used ground chuck)
2 eggs
2/3 cup plain bread crumbs
2 cans (10-3/4 oz.) condensed cream of mushroom soup, divided  (I used Campbell's Healthy Request)
½ cup finely chopped onion, optional  (I didn't use onion tonight)
¾ cup milk
1 pound freshly sliced mushrooms
Black pepper, to taste
In a large bowl, combine the ground beef, eggs, bread crumbs, ½ cup soup and onion.  Mix thoroughly and shape into 9 patties.
In a large nonstick skillet, brown the patties on both sides; drain.
In a separate bowl, combine the milk and remaining soup.  Add in some black pepper to taste.  Stir in the mushrooms.
Pour mushroom mixture over the beef patties.
Reduce heat, cover and simmer for 15 -20 minutes.
Serve and Enjoy!