The other day I told you about the health benefits of chickpeas (garbanzo beans) and promised that I would give you some recipes that include these as an ingredient.  Well, here's my first recipe – Roasted Chickpeas.  These are very tasty and very crunchy and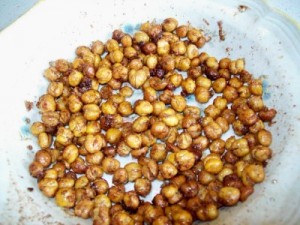 make a great healthy snack.  They are really simple to make and you can experiment with so many different seasonings to coat them with.  The recipe below is for the batch I made yesterday – it uses cinnamon and honey.  But if you are craving more of a spicy snack, you can coat them with seasonings like sea salt, garlic salt, chili powder, curry powder, creole seasonings, black pepper, cayenne pepper, cumin, smoked paprika, etc.  The possibilities and combinations are endless, so experiment and have fun.  You can also use regular vegetable or canola oil, olive oil, or garlic or other flavored oils.  This is actually a great recipe to include your kids in.  They will love helping to remove the skins on the beans and will surely love experimenting with different flavors, especially if you let them pack some of these crunchy roasted treats in their lunch box.
For Cinnamon Roasted Chickpeas with Honey, You Will Need:
1 can garbanzo beans (15 oz.)
3/4 tsp. cinnamon
1 TBSP vegetable oil
1 TBSP honey
Preheat oven to 400 F.
Drain and rinse the beans and then place them between two paper towels to pat dry and loosen the outer skin of the beans.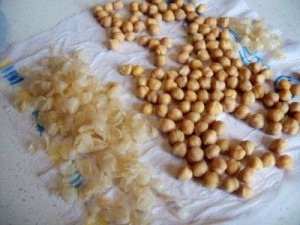 Remove the skins from the beans.  (I found it very easy to remove the skin by giving the bean a pinch – the skin comes right off.  It takes a few minutes to remove the skins, but if you get your kids to help you (which they will love) it goes quick.)  When you are finished, discard the skins and paper towels.
In a medium bowl, whisk together the cinnamon and the oil.
Stir in the beans and coat evenly with the mixture.
Transfer the beans to a parchment lined baking sheet and spread them out in a single layer.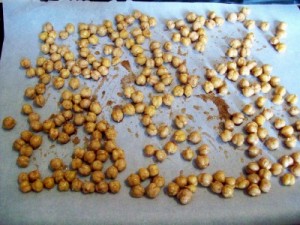 Bake for approximately 30 minutes until crispy, shaking the tray to toss about midway through cooking.
Transfer the warm roasted chickpeas to a bowl and toss with the honey.
Let them cool, then serve and enjoy!
Store in an airtight container at room temperature.