Thought you might enjoy this recipe.  It makes a great Sunday Dinner for your family.  I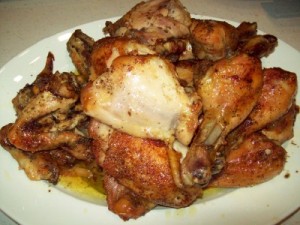 made this last week for my mom's birthday.  It was so delicious, that it was gone in a flash.  I always buy chicken pieces, rather than a whole chicken.  My family likes chicken legs, my mom likes chicken thighs, and my dad only eats chicken wings.  This is really simple to make, but it is the most delicious way to serve chicken.  I know you and your family will love this.
You will need:
Chicken pieces, washed and patted dry (any combination you like – legs, thighs, wings)
Garlic salt
Black pepper
Dried Oregano Leaves
Garlic Olive Oil (you could also use plain olive oil)
Butter
Preheat oven to 350 F.
Spray a baking pan with cooking spray.  Depending on how much chicken you make, you may need to use more than one baking pan.
Place the chicken pieces in the baking pan.
Sprinkle each piece with garlic salt, black pepper, and oregano.
Drizzle the garlic olive oil over each chicken piece.
Bake for 45 minutes and then remove from oven.
Using a pair of tongs, turn each chicken piece over.
Season this side of the chicken with the garlic salt, pepper, and oregano.
Slice very thin pats of butter, and place one pat on each chicken piece.
Bake for another 45 minutes.
Remove from oven.
Once again, flip the chicken and bake for an additional 10 – 15 each side, or until the chicken is browned to your satisfaction. 
Remove chicken from baking pans and transfer to a serving platter.
Spoon the delicious pan juices over the chicken.
Serve and enjoy!
 Note:  I served this with a nice Italian Salad and Panko Crusted Smashed Potatoes (see post under "Other".)