Here's a dessert recipe perfect for this fall season.  Pumpkin Cake.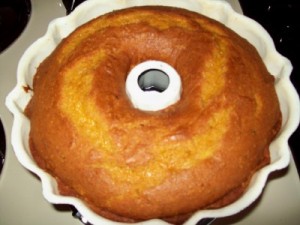 This cake is really very moist and delicious.  I don't even frost it because we like it just the way it is.  Give it a try.
You will need:
3 cups of sugar
3 eggs
1 cup of shortening
3 cups of all-purpose flour
1 tsp. cinnamon
1 tsp. nutmeg
1 tsp. allspice
1 tsp. baking soda
1 tsp. baking powder
1 can of pumpkin (15oz.)
1 tsp. vanilla
Preheat oven to 350 F.
In a bowl, combine the flour, cinnamon, nutmeg, allspice, baking soda, and baking powder.  Set aside.
In a separate bowl, cream the sugar, eggs, and shortening.
Add in the dry mixture, and mix.
Add the pumpkin and vanilla.  Mix thoroughly.
Pour into a Bundt pan coated with cooking spray.
Bake for 60 – 75 minutes or until toothpick inserted comes out clean.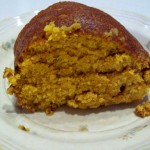 Serve and Enjoy!