This is a delicious potato dish and it is easy to make.  I made this for my mom's birthday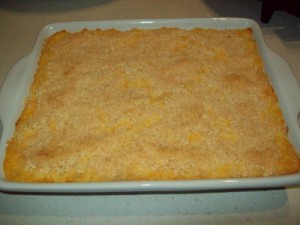 dinner and everyone loved it.  Try it, you will be sure to impress your guests and your family.  You can garnish it with chopped green onions or chives.  (I left that off this time since my dad doesn't do well with onions.)
You will need:
3 pounds of golden potatoes (I used Green Giant Golden Potatoes)
3 TBSP garlic salt
1 cup of milk
1 cup of sour cream
2 cups of grated cheddar cheese
¾ cup of panko bread crumbs
½ cup grated parmesan cheese
Cayenne pepper
Chives or green onions (optional)
Wash the potatoes and cut into quarters.
Place potatoes in a large boiling pot with the garlic salt and fill the pot with water.
Boil the potatoes until they are fork tender.
Preheat oven to 350 F.
When the potatoes are cooked, drain the water and return the potatoes to the pan.
Gently smash the potatoes with a potato masher or a big spoon.
Add the milk and sour cream and mix well.
Stir in the cheddar cheese and mix.
Transfer the mixture to a baking dish sprayed with cooking spray.
In a small bowl, combine the panko bread crumbs, parmesan cheese and a pinch of cayenne pepper.  Mix thoroughly.
Sprinkle the bread crumb mixture over the potato mixture.
Bake for about 20 minutes, until topping is lightly browned.
Remove from oven and top with chives or green onions if desired.
Serve and Enjoy!