I'm usually not so great at baking or cooking.  For example when I go to pick up a pan that's just been in the oven for 15 min. at 450˚, I forget to use hot pads, or when I try to make something as simple as oatmeal I turn it into brown powder by adding way too much cinnamon.  As you can see, baking isn't one of my specialties.  But, that doesn't mean I don't like to do it. I like coming up with new concoctions; and when I do mess up, I use those experiences to do better next time.
My parent's anniversary was coming up and I wanted to make them something different than a picture or a painted rock.  I decided to make them a dessert.  I had been thinking about the home-made chocolate covered pretzels that I had helped make for our family Christmas party.  I thought it would be really cool if I could make the same thing, except I would put peanut butter inside the chocolate.  Even if I didn't turn out, I thought I'd still try it.
I went into our cabinets and found some Jif Peanut Butter, a package of Snyder's mini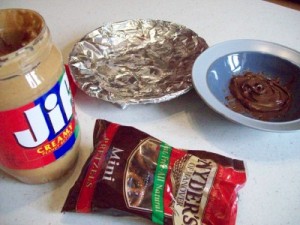 braided pretzels, and some milk chocolate morsels.  I also got out a bowl, some tin foil, two buttering knives, and a plate.
After that, I got right to work.  First, I poured some chocolate chips into my bowl and microwaved it for about 1 and ½ minutes. After the chocolate chips were melted together, I opened my jar of peanut butter and used one of my buttering knives to put a thin layer of peanut butter on a pretzel.  Then I used another knife to put chocolate on top of the peanut butter pretzel.  I put it on a plate that I had covered with foil so that the pretzels wouldn't stick to the plate when they dried.  I repeated this process over and over until I had used up all of my pretzels.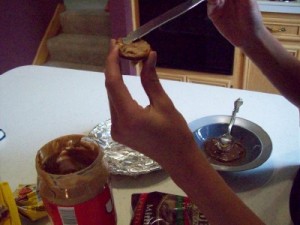 When I was finished, I put them into my refrigerator for about 20 min.  Then, after the chocolate had hardened, I served them to my parents.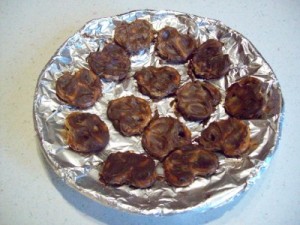 My parents loved them. My mom said they were awesome, and my dad said that they reminded him of a Reese's Peanut Butter Cup.  They both asked me to make them some more.
I hope you enjoyed my article about my chocolate, peanut butter pretzels.  If you're looking for a simple gift or just a fun and enjoyable snack, then these chocolate pretzels are right for you.  If you want to read more of my fun stories… keep coming to KIDS CORNER!