I got this recipe for corn salad from my friend Kristie.  This is so good and I know it would be a hit for your backyard barbeque for this holiday weekend.  It is very colorful and makes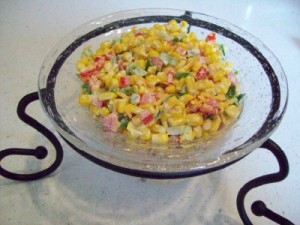 a very pretty side dish.  You can eat it as is, serving it as a delicious side salad for anything you might be grilling, but it also tastes great served with tortilla chips.
 INGREDIENTS
2 cans of corn, drained
½ cup shredded cheddar cheese
½ cup diced red pepper
½ cup diced green pepper
½ cup chopped green onion
Mayo (I only use Hellmann's)
1 cup crushed Frito's Chili Cheese Corn Chips
In a medium bowl, mix the corn, cheese, red and green pepper and the onion.  Add a few tablespoons of mayo, just enough to bind the ingredients.  Cover and chill in the refrigerator for at least an hour.  Just before you are ready to serve, stir in the crushed chips.  Enjoy!