Here's a tuna dish that my dad has been making for years.  It's really simple, and it's really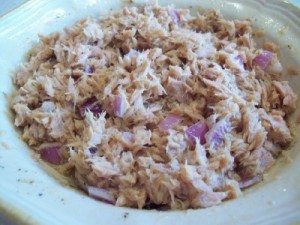 good.  My dad really likes white bread, so he makes a sandwich using that.  My husband and I really like to have ours stuffed inside a whole wheat pita.  You can even eat this plain.  My sister spoons some on crackers and serves it as an appetizer when she has her football parties.  Any way you serve it, I know you will like it.
You will need:
Two 5oz. cans of Genova Tonno, premium yellow fin tuna packed in olive oil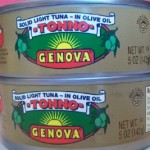 1/3 cup chopped red onion
3 or 4 TBSP olive oil
Black pepper, to taste
Open the two cans of tuna and place entire contents in a medium bowl.  Use a fork to flake some of the larger chunks of tuna.
Add the onion, olive oil and black pepper.
Mix well and refrigerate for at least 30 minutes.
Spoon into pita pockets and Enjoy!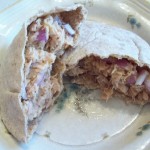 Spoon on to crackers and serve as an appetizer.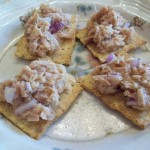 Be sure to select a nice crisp cracker so it doesn't get soggy.  My husband like his on top of Wheat Thins Flatbread.