Here's a recipe that is surely a keeper.  My neighbor April made this once for a football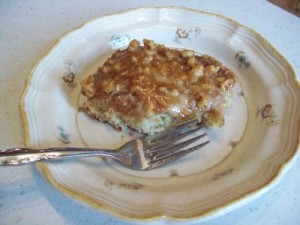 party she invited us to.  I just loved it and asked her for the recipe.  This is her Mom's Banana Cake recipe – the best I have ever had.  It is so good – especially warm right out of the oven.  Actually, I can't tell you how it tastes cold, because it's never lasted that long to try it that way.  You must make this.  You will definitely love it.
You will need:
¼ cup butter
¾ cup sugar
1 egg
1 tsp. vanilla
1 cup sifted cake flour (see note below)
½ tsp. baking powder
¼ tsp. baking soda
½ tsp. salt
1 medium banana, mashed
2 TBSP buttermilk (see note below)
TOPPING:
3 TBSP butter
½ cup brown sugar
1 TBSP cream (see note below)
1/3 cup chopped nuts (I used walnuts)
Preheat oven to 350 F.
Cream the butter and sugar until light and fluffy.  Add egg and vanilla; beat thoroughly.  Add sifted dry ingredients, mashed banana and buttermilk alternately in thirds, beating until smooth after each addition.
Spread in a greased 8x8x2 inch pan.  Bake at 350 for 30 minutes.
To prepare the topping, cream the butter and brown sugar until light and fluffy.  Add cream and nuts; spread on warm cake. 
Place about 5 inches from broiler and broil, about a minute or until topping is bubbly.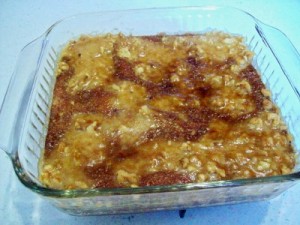 Serve and Enjoy!
Note: If you do not have cake flour, you can substitute by placing 2 TBSP of corn starch in the cup and then filling the cup with all-purpose flour.
If you do not have buttermilk, you can substitute a mixture of milk with a little vinegar or lemon juice added.  When I made this, I used freshly squeezed lemon juice.  I placed the milk in a measuring cup and then squeezed a bit of lemon juice into it and let it set for 2 minutes.
I also did not have cream on hand, so I used milk.  It still turned out really good.