Craving for some delicious Italian Food?  Then, this recipe is for you.  Some people shy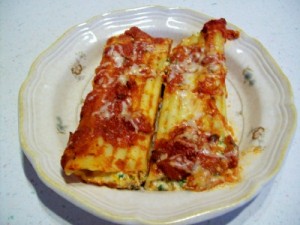 away from making Manicotti because they think it is too difficult.  It's not!  It's super easy and pretty quick too.  Basically, you just boil the pasta, sauté some spinach, add it to a cheese mixture and spoon it into the pasta tubes.  Then bake.   Really good.  Really easy.  Try this for dinner tonight.
You will need:
1 box of Manicotti (I used Barilla's 8 oz. box)
3 TBSP garlic olive oil (you could use regular olive oil)
2 garlic cloves, minced
4 large handfuls of fresh spinach, torn
2 eggs
1 container of ricotta cheese (15 oz.)
½ cup of grated Parmesan cheese
10 fresh basil leaves
1 jar of your favorite spaghetti sauce (or your own homemade sauce)
Shredded Mozzarella cheese
Preheat oven to 350 F.
Cook the Manicotti in a pot of boiling water for 7 minutes.  Drain and let them cool on a flat plate or cookie sheet.  Set aside.
Meanwhile, in a skillet, sauté the spinach and garlic in the garlic olive oil for approximately 7 minutes.  Set aside to cool.
In a medium bowl, lightly beat the eggs.  Stir in the ricotta and Parmesan cheese.  Remove stems from the basil and gently tear (or chop) the leaves into pieces and add them to the cheese mixture. 
Stir the cooked spinach into the cheese mixture and mix well.
Spray a 13 x 9 baking pan with cooking spray.  Then spread ¾ cup of the spaghetti sauce evenly over the bottom of the baking pan.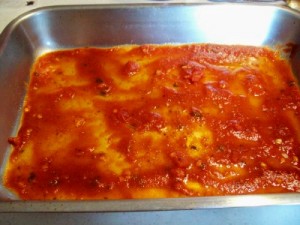 Using a spoon, fill the Manicotti with the spinach and cheese mixture and place them in the baking pan.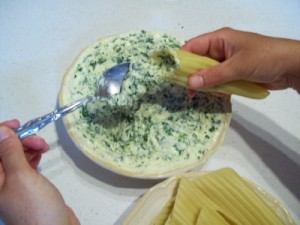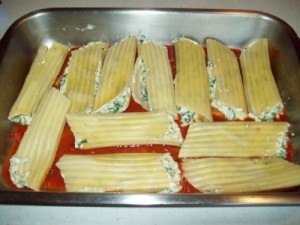 Pour the remaining spaghetti sauce over the manicotti, ensuring all the noodles are covered with the sauce.
Cover pan with foil and bake for 30 minutes.      
Remove from oven and uncover.  Sprinkle shredded Mozzarella over the top of the Manicotti.
Continue cooking uncovered for 7 – 10 minutes until the cheese is melted.
Serve and Enjoy!