I got this recipe from my sister.  I have to admit that when she first brought it to my house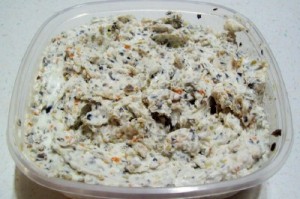 for a party I was very reluctant to try it.  The ingredients didn't exactly appeal to me.  But, being the good sister and host that I am, I gave it a try.  I put a little on a cracker to taste.  It was really good.  My husband just loves it.  In fact, I made some for him this weekend.  I always make it for our Christmas Eve celebration because it has such festive colors in it.  And, I always bring it for snacking on when we go away for a weekend.  Give it a try.  I did, and now it is one of our family's favorites.
You will need:
2 eight ounce packages of cream cheese, softened
2 or 3 garlic cloves (my husband prefers 3; he's a garlic lover)
1 can of pitted black olives (6 oz. drained wt.)
1 jar of Spanish stuffed olives (5.75 oz. drained wt.)
Place the softened cream cheese into a medium size mixing bowl.
Using a food chopper finely chop the garlic, ¾ of the can of black olives, and ¾ of the jar of stuffed olives.  (Save remaining olives for another use or to snack on.)
Note:  I use my Pampered Chef's Food Chopper to finely chop the olives and the garlic cloves.
Add the chopped ingredients to the cream cheese and mix well. 
If you find it is too thick, you can add a few teaspoons of the liquid from the Spanish olives.
Refrigerate for at least 2 hours before serving.
Spread onto your favorite crackers (ours is Town House Crackers) and Enjoy!