Here's a yummy blueberry cheesecake dessert.  Don't let the thought of making three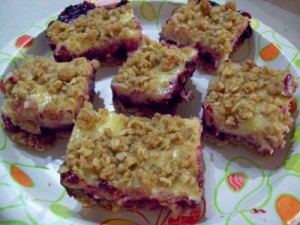 separate layers scare you away; this is a really fast and really easy dessert to make.  I made this for my sister's birthday the other night, and the whole family just loved it.  Give this a try.  I know you will like it, and it's a great way to use fresh blueberries.
You will need:
Crust
½ cup flour
½ cup light brown sugar
1 ½ cups quick-cooking oats
¼ tsp. baking soda
¼ tsp. salt
½ tsp. cinnamon
6 TBSP butter, melted
Blueberry Filling
3 TBSP sugar
2 tsp. cornstarch
3 tsp. freshly squeezed lemon juice (approx. ½ of a lemon)
1 2/3 cups fresh blueberries
Cheesecake Filling
8 oz. cream cheese, softened
½ cup sugar
1 egg
1 tsp. vanilla
Pre-heat oven to 350 F.
Crust:  In a large bowl, mix together all the dry ingredients for the crust.  Add the melted butter and stir with a fork until mixed well; mixture should be crumbly.  Reserve ½ cup of the crumb mixture for the topping.  Spray an 8×8 square baking pan with cooking spray and press the mixture firmly on bottom of pan.  Bake crust for 12 minutes.  Remove from oven.
Blueberry Filling:  In a small saucepan, combine all the ingredients for the blueberry filling.  Cook over medium heat, stirring constantly, for approx. 7 minutes, until the mixture begins to thicken slightly.  Remove from heat.  Let the mixture cool slightly before pouring it over the baked crust.
Cheesecake Filling:  In a medium bowl, use an electric mixer to beat together all the ingredients for the cheesecake filling.  Beat until smooth and well combined.
Pour the cheesecake filling over the blueberry filling.
Sprinkle the reserved crumb mixture over the top.
Bake for approx. 30 minutes until the top is browned and the filling is bubbly.
Cool completely.
Chill for at least one hour before cutting.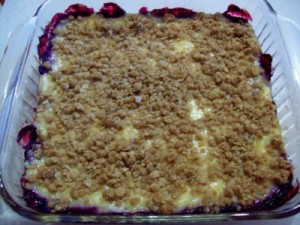 Cut into bars (approx. 16 bars).  Note: For serving, it looks really nice if you put each bar in a paper cupcake liner.
These need to be stored in the refrigerator, but can be served at room temperature.  Enjoy!