If you've been following my posts lately, you know that we recently vacationed in Southwest Michigan.  In addition to the wonderful beaches, lakes and quaint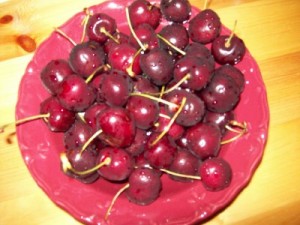 towns, we also got to experience many farm stands boasting blueberries, peaches, and cherries.  We bought some cherries, and that's what I'd like to focus on today.  This small, dark red fruit is not only delicious but has many health benefits too.
Cherries are a low calorie fruit that are a rich source of vitamins, nutrients, and minerals.  They are high in potassium (great for healthy blood pressure), Vitamin C and B-complex vitamins.  Cherries are one of nature's most powerful anti-inflammatories and are beneficial for people with arthritis, gout, fibromyalgia, and sports injuries.  Studies have also shown that a diet that includes cherries helps lower cholesterol and the risk factors for heart disease.  Cherries have a high level of an antioxidant called cyanidin, which helps fight cancer.  They are also very rich in melatonin, which can calm the nervous system, thereby helping to relieve insomnia and headache conditions. 
So, grab a handful of cherries for a delicious snack.  Play a fun family game with them – see who can spit their cherry pit the farthest.  Add them to a fruit salad.  You can even add dried cherries to breads and cookies, and can combine them with nuts and other dried fruits to create a tasty trail mix.