My daughter just loves these homemade chicken nuggets.  They are really tasty and very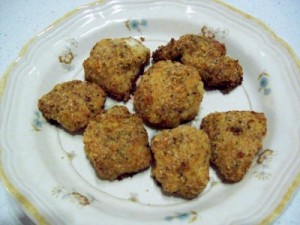 quick and easy to make.  They are baked with Italian seasonings and Parmesan cheese – a delicious alternative to the fast food variety.  Serve them with a side salad and some marinara sauce for dipping and you are set for a kid friendly meal.
You will need:
3 boneless, skinless chicken breasts
1 cup of plain bread crumbs
½ cup of grated Parmesan cheese
1 tsp. garlic salt
½ tsp. black pepper
1 TBSP dried basil leaves
½ cup butter, melted
Preheat oven to 400 F.
Cut the chicken breasts into nugget size pieces.
In a medium bowl, combine the bread crumbs, cheese, garlic salt, pepper, and basil.  Mix well.
Put the melted butter in a small bowl.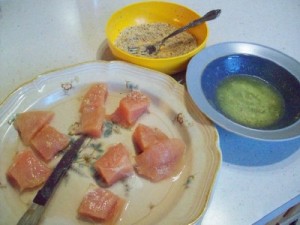 Dip the chicken nugget pieces into the melted butter, then coat with the breadcrumb mixture.  You can use a fork to help press the breading onto the chicken.
Place the coated chicken pieces onto a lightly greased cookie sheet (in a single layer).
Bake for 20 minutes.
Serve with marinara sauce. 
Enjoy!