Here's my recipe for macaroni salad.  The key is to be sure NOT to overcook the pasta.  Mushy macaroni salad is not so good.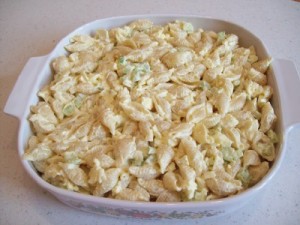 At our family party yesterday, I served this along with some sub sandwiches that I had ordered.  It was a really good side dish, easy to make and a lot less expensive than ordering salads.  It's also a great side dish for burgers and dogs.  Try this if you are grilling over this 3-day weekend.
You will need:
1 lb. box of Barilla medium shells  (You could also use elbow pasta.)
2 ribs of celery, finely chopped
¼ cup yellow onion, diced
1 and 1/3 cup Hellmann's Real Mayonnaise (You can add a little more if you like it creamier.)
1 TBSP yellow mustard
4 hard-boiled eggs, chopped
Salt and pepper, to taste
Cook the pasta shells according to package directions for "al dente".  Drain and run under cold water.  Let the cooled pasta drain thoroughly.
In a large bowl, mix together the pasta, celery, onion, mayo, mustard, and eggs.  Mix well.  Add salt and pepper to taste.
Cover and refrigerate at least 2 hours before serving.
Enjoy!