Here's my version of a Turkey Philly Sandwich.  I did not use onions in this version, but if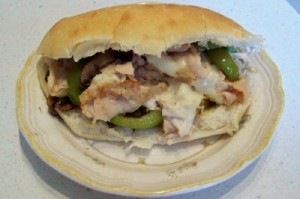 you would like to, use about ¼ cup thinly sliced.  This is a very tasty, satisfying sandwich, and it is very easy to make.  The recipe below makes one sandwich.
You will need:
4 large white button mushrooms
1 green pepper
2 ½ TBSP Garlic Olive Oil (You could also use regular olive oil, but the garlic oil has great flavor.)
4 slices of thinly sliced deli turkey
2 slices provolone cheese
1 sandwich roll
3 leaves of fresh basil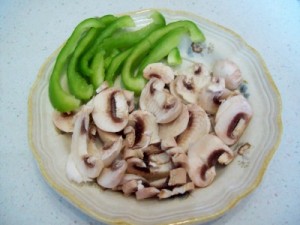 Slice the mushrooms into thin slices.
Cut the green pepper in half, and then cut 8 long strips of the pepper.  (Save the remaining pepper for another use.)
Sauté the sliced mushrooms and the strips of pepper in a pan with the olive oil for about 7 -8 minutes, until tender.
Push the mushrooms and peppers to one side of the pan.
Place the sliced turkey on the other side of the pan and heat for about 1 minute and then flip the turkey over and heat the other side for about a minute.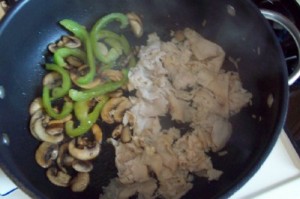 While you are heating the final side of the turkey, place the 2 slices of provolone over the turkey so it can melt.
Remove from heat.
Using a spatula, put ½ of the mushroom/pepper mixture on the bun.  Then put the turkey/cheese on, then the remaining half of the mushroom/pepper.
Top with 3 leaves of fresh basil.
Serve.  Oh, yum!  Enjoy!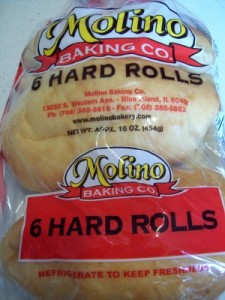 Tip:  The sandwich roll I used was from Molino Baking Co.  They have some of the best bread around.  Check to see if your local grocer carries it.  The type of bread you use can make or break a sandwich.