I love rocks.  There are so many different types.  Some are round, some are long, some are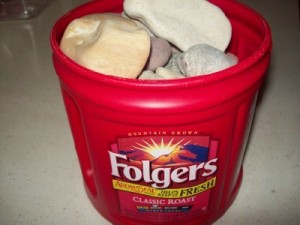 colorful, and some are plain.  Whatever size, shape, or color they are, they are all beautiful.  During the summer, my family and I sometimes travel to beaches or up to our cottage.  That's when I usually collect rocks.  Some rocks I collect so I can admire them and see how unique they are, and some I collect so I can paint them.  I try to find the flat, smooth rocks for painting.  It's easier to paint on when it's flat.  We usually visit beaches in Northern Michigan where my relatives live.  After fun times on vacation and all that rock collecting, we go home.  It takes about six hours to get home.  It would probably be five hours if it weren't for all those rocks weighing us down (just kidding)! 
When I get home I unload my rocks.  I wait for special occasions like birthdays, anniversaries, holidays, etc. and then I take out my paint and paint brushes and get to work.  If I'm working on a really detailed painting, I usually get a pencil and lightly sketch the picture first.  Sometimes I even just paint the rock a solid color and write on it.  Other times, I use markers to write on the rocks.  Here are some samples of rocks I gave as gifts.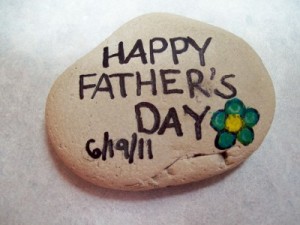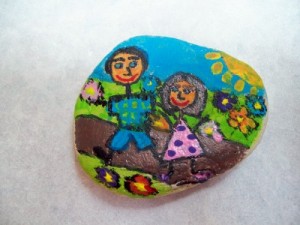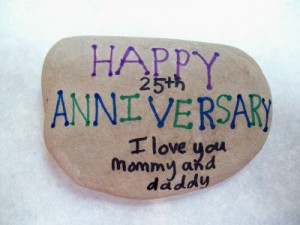 I don't always wait for special occasions.  I just recently brought over some rocks and paint to my friend's house and we painted the rocks together.  My friend painted a heart with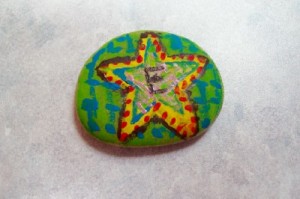 colors that match her bedroom and I painted a star with the letter "E" in the middle which is the first letter of my name.
If you don't travel a lot and you don't really know where to find rocks, rock painting kits are a good thing to look for.  They usually supply you with rocks.  My mom got me a rock painting kit, which I love.  And, another one of my friends has a kit with a bunch of activities including rock painting that we did together.  The kit had shiny, glass-like rocks and regular rocks.  We painted on the regular rocks.
Another thing I love about rocks besides painting them is finding shapes with rocks, like the ones below.  I found a "dog shaped rock" that I painted a few extras on.  I also found 3 different shaped rocks that when put together make up a form of a girl.  It is so exciting how many different shapes of rocks you can find.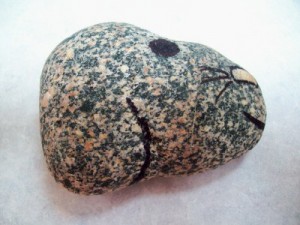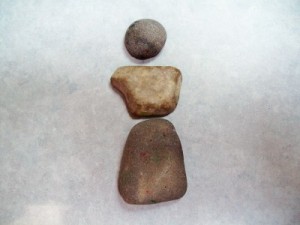 I hope you enjoyed my article about rock painting, and I hope you try it too.  Thank you, and have fun with rocks!