My Aunt Cindie was having company (Me!) and she needed a quick and easy appetizer to serve.  So, she pulled out a package of Portobello Mushrooms (my cousin is a vegetarian, so they eat lots of these), a frozen package of TGI Friday's Spinach and Artichoke Cheese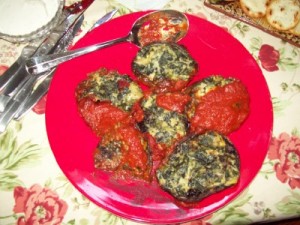 dip, and some spaghetti sauce.  She put them together and voila!  An extremely tasty and satisfying dish appeared.  I loved it!  And, I know you will too, so here's the recipe.
You will need:
Portobello Mushrooms (2 large or 6 small)
Olive Oil
1 pkg. TGI Friday's Spinach and Artichoke Cheese Dip (in your grocer's freezer section)
Spaghetti Sauce (optional)
Preheat oven to 350 F.
Cut off the mushroom stems and scrape out the gills from the mushroom cap.
Clean the mushrooms.  The suggested method is to wipe with a damp paper towel or kitchen cloth or use a mushroom brush.  Mushrooms are very porous and can get soggy if they are exposed to too much water.
Brush both sides of the mushrooms with a little olive oil and place in a shallow baking dish.
Defrost the spinach dip in the microwave for about 90 seconds (just until you can scoop it out of the container).
Using a spoon, fill each mushroom cap with the dip.
Bake at 350 F for 35 – 40 minutes, until the dip is bubbly but not too brown.
If you would like, you can top each mushroom with a spoonful of warm spaghetti sauce.
Enjoy!