My family loves spinach and we love pizza.  When we order pizza, we often order stuffed spinach pizza.  It is so good!  Yesterday I was thinking about that pizza and I was thinking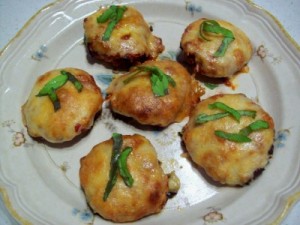 about creating a recipe using Portobello mushrooms to share with you.  Well, I came up with a really great combination.  I bought a package of Baby Bella Mushrooms and stuffed them with spinach, garlic, and pizza sauce, and then topped them off with shredded cheese.  It was oh so delicious.  My husband has requested that I make them again tonight.  Give these a try.  You will absolutely love them. 
You will need:
3 TBSP Garlic Olive Oil (You can also use regular olive oil.)
9 oz. pkg. of fresh spinach
1 garlic clove, minced
6 Baby Bella Mushrooms (medium size Portobello mushrooms)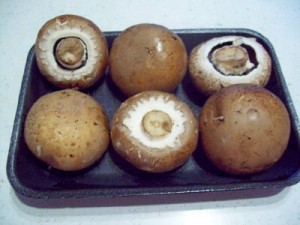 6 TBSP Pizza Sauce (I used a small can of Pastorelli Pizza Sauce.)
Italian 4-Cheese Blend Shredded Cheese (You could also use shredded mozzarella.)
Fresh Basil (optional)
Preheat oven to 350 F.
Cut off the mushroom stems and scrape out the gills from the mushroom caps.
Clean the mushrooms and set aside.  The suggested method is to wipe with a damp paper towel or kitchen cloth or use a mushroom brush.  Mushrooms are very porous and can get soggy if they are exposed to too much water.
Sauté the fresh spinach and the garlic in a pan with 3 TBSP of olive oil.
Line a baking sheet with foil and spray with cooking spray.
Brush both sides of the mushroom caps with olive oil and place on baking sheet.
Fill the 6 mushroom caps with the cooked spinach.
Then, place one TBSP of pizza sauce on each mushroom.
Top with shredded cheese.
Bake for approximately 30 minutes, or until the cheese browns.
Remove to serving platter and top with freshly cut basil.
Serve and enjoy!