Our family loves to eat avocados.  They are so tasty and have such a creamy texture.  If you have read some of my recipes, you know that we like to top our turkey burgers with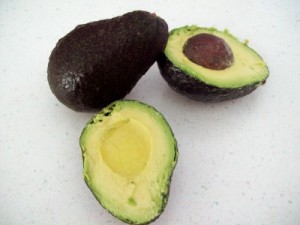 avocado slices and that we sometimes just eat them as a side dish with our Southwest Salsa Lime Chicken.  Of course we love them in guacamole and in our salads and they are also a great spread for a sandwich in place of mayo.
I always think it is so great when something you like to eat is so good for you.  So, I just wanted to tell you a few health facts about the avocado.  This delicious fruit contains over 20 essential nutrients, including fiber, potassium, Vitamin E, B Vitamins, and folic acid.  When eaten with other foods (like a salad containing romaine, spinach, carrots, and tomatoes) it aids in the absorption of lycopene and beta-carotene, 2 very powerful anti-oxidants.  Avocados also have anti-cancer properties, and anti-inflammatory properties (can help with arthritis).
Sometimes people say that avocados are a high fat food.  While this is true because 85% of its calories come from fat, its unusual fat composition provides many health benefits.  Avocados provide "good" fat to your diet.  They help reduce blood cholesterol levels and decrease risk for heart disease – similar to the way walnuts and flaxseed are good for you.  Avocados are also a low glycemic index food.  They are low carb, low sugar, but high fiber and therefore are a good blood sugar regulating nutrient.
My family gives the avocado a "three thumbs up" for taste.  And now we give them a "three thumbs up" for nutrition and health benefits.  So, add some to your dishes.  You will like the taste, and your body will like what it does for it.