This is our first full week off of school, and my first Wednesday in a long time that I haven't gathered with my Moms In Touch Prayer Group to pray for our children. Each week at our school, a group of moms meet together to pray for our children, our teachers and staff, and our school families. I always look forward to our Wednesday morning prayer sessions. It is such a wonderful and awesome way to spend time with God in prayer. While we don't meet as a group over the summer, we continue to pray daily for our children. I wanted to share with you some information that has greatly blessed my prayer life.
First, I would like to tell you about Moms In Touch International, a group of praying moms founded by Fern Nichols in 1984. It has grown into a worldwide group of praying moms from every state and in more than 120 countries around the world. They provide us with a wonderful format for praying which includes praise, confession, thanksgiving, and intercession. They also have wonderful resources to help you start and grow a prayer group for your school. If you are not part of this amazing group already, spend some time this summer exploring their website to learn about Moms In Touch and how they can help you make a positive impact on your child's life through prayer. Click on this link to go directly to their site.  www.momsintouch.org
Before I joined this group, I had my own way of praying. When I joined this group, I learned how to pray Scripture for my child. That was something new to me. It is very awesome to pray the exact words of God for your children. While Moms In Touch was my first introduction to this type of prayer, I also have a wonderful book at home that I would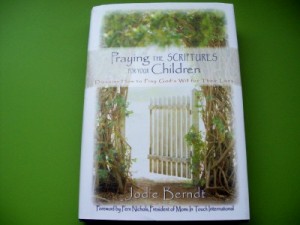 like to recommend to you. It is called Praying The Scriptures For Your Children, by Jodie Berndt. In it, she teaches you how to really make your prayers powerful and at the end of every chapter, she gives you examples of how to use Scripture verses and how you can insert your child's name and pray that verse back to God. For example, in her chapter about praying for Wisdom and Discernment for your child, she cites 1 Kings 3:9, 12 "Give _______a wise and discerning heart so that she can distinguish between right and wrong." Isn't that awesome? I had never prayed that way before.
These two sources have greatly blessed my prayer life and have helped me to grow spiritually. If you are looking for a good summer read that will have a positive impact on you and your family, read this book. You won't read it just once, I guarantee that. May God bless you and your family.