As you can see, I like dogs.  I have a dog, Blue, who you can read about here at KIDS CORNER; I did a book review on a book called Saving Zasha, which is about a dog; and, I'm doing a book review on this book, which is about dogs.
 The book, Fight For Life, by Laurie Halse Anderson, starts out with animal lover, Maggie MacKenzie.  She's awesome with dogs.  She lives with her grandma, A.K.A., Dr. Mac.  Her grandma is a veterinarian.  Maggie loves helping out at the animal clinic.  When Maggie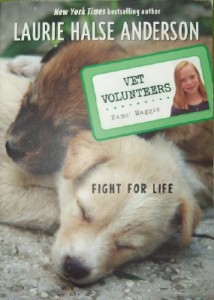 starts falling behind in her grades, Dr. Mac says, "No more animal clinic if your grades don't improve."  Maggie feels left out when four other volunteers come who have no clue what they're doing.  While she's doing homework, they get to be at the clinic.  Also, her rich cousin, who she doesn't like at all, is flying in and staying at her house.  On top of all of that, the clinic is "flooded" with sick, dying puppies.  Maggie is determined to figure out where all these puppies are coming from.  She has an idea. From the description of the place the owners got the puppies from, Maggie suspects somebody is running a puppy mill.
Will Maggie be able to stop the person who is running the puppy mill?  Will her grades improve so she can spend more time at the clinic?  Will the four volunteers be a help to Maggie?  What happens to her cousin?
 There's only one way to find out . . . . .READ THE BOOK!