I wanted to tell you about a daily devotional book that my daughter and I are reading.  It is titled "2 Minutes a Day, 100 Devotions for Girls", and is produced and sold by FAMILY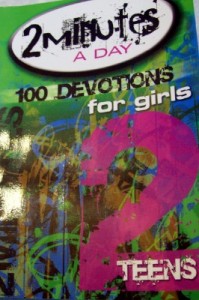 Christian Stores.  The version that we are reading is aimed at teens. 
I think this is a great book.  We read it first thing in the morning when we get up.  It is a wonderful way to start our day.  Even though the book is written for teens, the bible verses and lessons are a great reminder for me too.
Each day in the book starts with a Bible verse and then a few short paragraphs that help discuss the meaning of that verse.  It is then followed by quotes from 2 different famous Christians that relate to that topic.  The day is closed with a short prayer.  I love the format.  I love the way it helps us start our day reflecting on God's Word.  I love the advice in the book and our discussions that follow.  But I particularly love the daily prayer that lets us focus on asking for God's help in our day.
To give you an idea on the content of the lessons, here are some of the topics we have already read: The Power of Perseverance, The Wisdom Not to Judge, The Right Crowd, Healthy Habits, God's Timetable, Discipline and Life, and Encouraging Others.  I really enjoyed yesterday's lesson titled "What Kind of Example".  The Bible verse was from 1Timothy 4:12 "Be an example to the believers in word, in conduct, in love, in spirit, in faith, in purity."  The lesson centered on people will know we are Christians not because we say we are, but because of the way we behave.  The best part was the prayer for the day.  This is a direct quote from the book – "Today's Prayer:  Lord, make me a worthy example to my family and friends.  And, let my words and my deeds serve as a testimony to the changes You have made in my life.  Let me praise You, Father, by following in the footsteps of Your Son, and let others see Him through me.  Amen."
That is an awesome prayer.  I think it is an awesome devotional book.  Great topics that lead to great discussions during quality time spent with your daughter.  I give the book 2 thumbs up.  Check it out.  Have a blessed day.